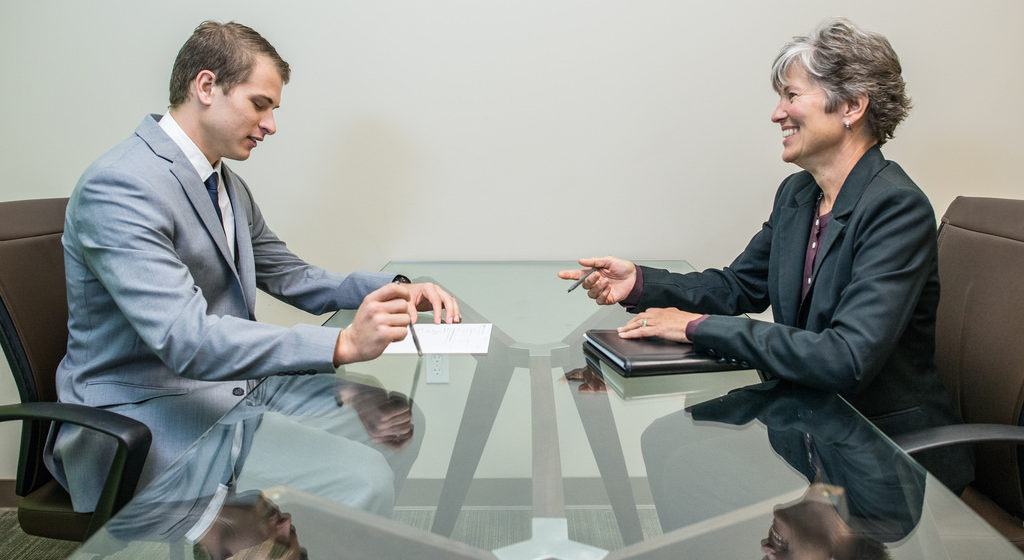 Whether the interviews are in stages or one-off, it should be seen as a long-awaited opportunity for you to showcase your ability, impress the interviewers and ultimately get the job. Understand that it has been a journey through which others were dropped by the roadside; it must be approached with all level of seriousness, determination, and confidence.
SMILE AND WALK INTO THE INTERVIEW ROOM CONFIDENTLY
Smiling has a magnetic force that makes you likable and approachable particularly during the first encounter. Smiling presents you to the panelist as socially attractive and a good material to work with. Smiling must not be done sheepishly but in moderation so that you are not seen to be feigning it. A good smile will also create the impression that you are not nervous but confident about yourself.
In a recent research by Marco Iacoboni, a neuroscientist, he established a relationship between the mirror effect of a smile on the body and the brain. In his words When I see you smiling, my mirror neurons for smiling fire up, too, initiating a cascade of neural activity that evokes the feelings we typically associate with a smile.
The above statements imply that smiling is contagious and makes the one smiling likable and attractive. This follows an established and psychological proven fact that people decide whether to like a person or not in the first seven seconds of meeting for the first time.
IF IT IS A CLOSED DOOR, KNOCK GENTLY AND WAIT FOR A RESPONSE BEFORE STEEPING IN
It is a recognized custom to knock behind a closed door and wait for a response before stepping in. Just budging in without a knock and a corresponding response will sell you out as a disruptive person who dont care about other peoples privacy and respect for protocol. It is important to note that the word organization connotes an organized setting with rules and regulations, so you must be seen right from the word go that you are law abiding and courteous.
GREET AND DIRECT YOUR LOOK AT THE PANELISTS WHILE STILL STANDING
Once you are asked in, ensure that you greet and direct your attention to everyone in the room. This must be done genuinely and respectfully. The standard official greetings formats are Good afternoon or good day sir or madam or ladies and gentlemen.
Take note of the advice given by Barbara Pachter, a business-etiquette expert If you offend someone in the salutation, that person may not read further. It may also affect that persons opinion of you.
WAIT UNTIL YOU ARE ASKED TO SIT BUT IF IT TAKES MORE THAN 60 SECONDS THEN POLITELY ASK IF YOU SHOULD SIT


Even if is only one single seat that is left unoccupied in the interview room courtesy demands that you are asked or directed to take a seat before doing so. Mind you that the seating arrangement was made by your host they should take care of you and they know which arrangement is best as per their plans.
However, when you wait for a few seconds without the offer of a seat you can politely ask if you should take a seat.
SIT GENTLEMANLY OR LADY-LIKE
Gesturing with your hands' aids communication, having a flexible movement on your seat throughout the interview session enables you to direct your attention to any member of the panel, hence, you must sit in a way that grants you some level of relaxation and flexibility.
The standard recommendation is to sit upright and straight without getting stuck to the seat or being too relaxed. Your hands should rest one on top of the other or one on the arm of the chair and the other on your lap.
Avoid crossing your arms because it suggests that you are defensive and having a closed mind.
Avoid fidgeting with your fingers or scratching your body and any form of excessive hand movement.
DONT PUT YOUR CV BEFORE YOU AFTERALL YOU HAVE DONE YOUR PREPARATION
Please note that it is not an acceptable practice to have your CV or resume before you when the interview is being conducted, it is your document so it is expected that you have good understanding of this document more so, if you are honest about the information contained therein why would you need to check through to make a point.
As stated in a previous article, your CV will only provide you the opportunity for a shortlist and subsequently an interview, it is worthy of note that the sorter would have seen that you met companys requirements hence the need for you to come over and prove that you possessed those stated qualities. And, because your CV and cover letter would have been circulated to the interviewers for perusal it then implies that most of the questions that will kick-start the discussions will be taken from your CV.
The rule is for you to do a proper study of your CV and ensure that you can prove every single point made in it when asked.
RESPOND TO QUESTIONS CONFIDENTLY WITH A SMILE
When you have a proper understanding of a matter you are in a better position to speak about it more confidently. Success in an interview requires the ability to be convincing, demonstrative and prove that you are the best amongst all the other applicants. However, to build your confidence will depend to a very large extent on your past and presence experiences, achievements and preparation.
I have equally noticed that when you are confident about a matter, you tend to espouse it boldly and with the assurances that when given the opportunity you will do it better.
DIRECT YOUR RESPONSES MORE SPECIFICALLY TO THE PERSON WHO ASKED THE QUESTION AND LOOKS SMARTLY AT OTHERS FOR AFFIRMATION AND THEIR REACTION
One of the ways of capturing the attention of the interviewers is to have the right use of eye contact and direct your responses to the questioner and at the same time study the reactions of the panelists to your response and try as much as possible to carry everyone along.
An interview session requires good observation of body language and affirmative or negative reaction to your responses; if you are able to study people properly you will understand when you are hitting it right or wrongly and quickly make the necessary adjustment.
PLACE EMPHASIS ON YOUR EXPERIENCES AND SKILLS RELEVANT TO THE JOB POSITION
As a job hunter, you must do a proper assessment of your key selling points or the identification of those qualities that you think and believe would make you stand out from the crowd. This process involves you listing your strengths and weaknesses and at the same times your key achievements in previous job positions and other leadership positions that you have held and work out a synergy between those experiences and the position for which you are being interviewed.
EVEN WHEN A PANELIST SOUNDS ANTAGONISTIC NEVER EXPRESS EMOTION; BE CALM AND COLLECTED BY CONCEALING IT WITH A SMILE
People are selected to a panel for different reasons, even if is just a single individual interviewing you, you should be aware that different qualities are being tested, it could be your ability to be tolerant and calm in the face of tasking situation, difficult customer or in working with a boss that is temperamental. Hence, the interview could take different form and posture. Some persons are friendly and some outrightly antagonistic so you must be calm and collected and handle the process with a smile and confidence.
BE HONEST AND DIPLOMATIC DONT LIE TO COVER UP YOUR WEAKNESSES OR A KNOTTY ISSUES IN YOUR PROFILE
Across the world, organizations look out for people of integrity, hence, from day one never do anything to put your integrity to doubt, lying to cover up your weaknesses or a perceived disadvantage will work against you once it is discovered. Be smart in your presentation, work on areas of weaknesses, be diplomatic in your responses and be positive that you will get the job.
KEY ISSUES THAT JOB SEEKERS LIED ABOUT
• Age
• Reasons why you lost your last job
• Employment gap
• Remuneration (Last or current salary vis-a-vis what demanding)
It important to state here that an averagely trained HR practitioner knows how to dictate lies related to the issues listed above. Even, when it is not discovered during the interview you might end up selling yourself out in the course of your employment then your integrity will then be called to question.
Continue to: HOW TO CLOSE AN EMPLOYMENT OR JOB INTERVIEW WITH A REMARKABLE STATEMENT
Sharing is caring!